By PETER ROWE
Kennedy Cherrington has more than one reason to celebrate after being named the NRL's Woman of the Year recently.
Cherrington, 24, has also been selected to represent Australia at the Rugby League World Cup, which kicks off this weekend in the UK.
The powerful prop forward began her career in the under-9s team at the Rockingham Sharks, before moving to Sydney five years ago to pursue her dream of a professional career in the sport.
And this week she returned to her home-town club to give something back after getting her first international call-up.
The Veronica White Medal winner has donated a portion of her award prize money back to the grassroots game in WA, something she is passionate about.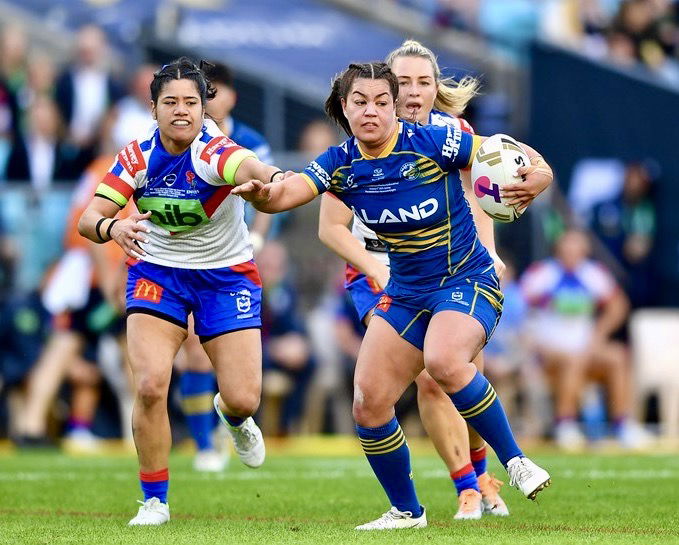 "A girl from WA , from Rocky, makes it to the top in her sport in Australia, that's something I am immensely proud of," Cherrington said during a three-day trip back to Perth to catch up with old teammates and friends.
"I was told quietly at the Dally Ms I had won it so I went into our NRLW grand final not thinking about it at all," she said.
The grand final didn't go as planned as her Parramatta Eels side lost 32-12 to the Newcastle Knights, but an hour after that defeat she proudly walked back out on to the field at Accor Stadium to accept the award for her community work throughout the year.
"It was a little bittersweet. It was a roller coaster of a week. The game came down to experience I guess, there was a lot of nervous energy pre-game. But I was really proud of all my teammates.
"We had them on the back foot early and scored first. We had the momentum but they had that experience. And a few mistakes in the game changed it all.
"I am disappointed for sure but it was an amazing and humbling experience to stand there and be named woman the year.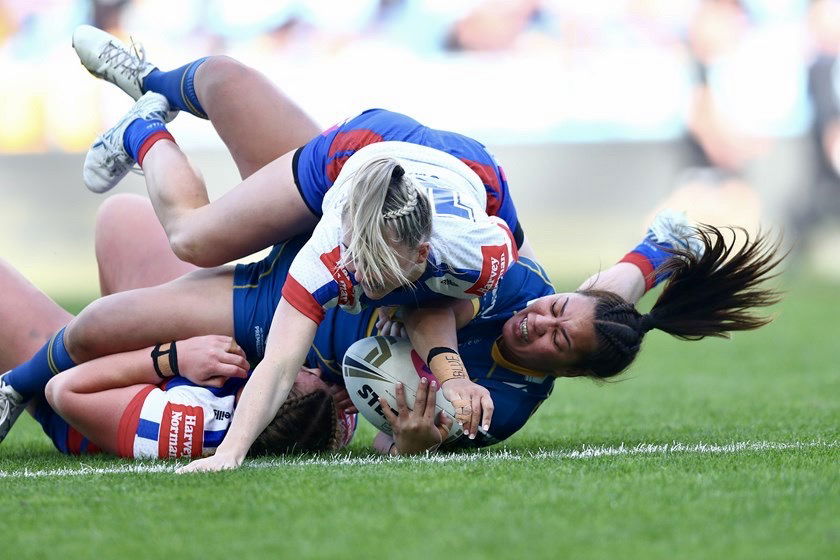 "Mum and dad were in the crowd as well - they were stoked. I wasn't expecting to win. I don't do it for recognition, (her charity work with Heart Kids). Yeah, it was amazing."
Then as she was attending a post grand final fan day event the following morning she got a signal from a Parramatta official to take an 'urgent' call.
"I remember saying 'yeah, I'll call them back' but the media guy said, 'no, no, you have to take it now'," Cherrington said.
"And when I did a voice just said 'hi, you have been selected to go the World Cup'.
"World Cup, I'm going to the World Cup. the emotions just flooded out."
Cherrington is one of 13 debutantes in the Jillaroos squad, but nearly never made it - she had to make a call early in the year whether to go for Origin or NRLW because of a knee injury.
"I couldn't do both, so I saw NRLW as the better pathway and Parramatta gave me that chance," she said.
"I got a call up for the Blues but I had to be selfish and realise it wasn't possible."
Now she is part of a side highly fancied in the eight-team tournament, based in Leeds.
"I've never been to England, but we will play our games in Leeds and York - I still have to pinch myself I'm going," she said.
The squad go into camp on the Gold Coast on Monday and fly out to the UK five days later, to prepare for their opening game against the Cook Islands on November 2.
"We are training full-time - just like the men and there's parity on the prize money as well, so the women's game is getting recognition," Cherrington said.
A prize pool of around $140,000 awaits the winners, something Cherrington believes is the first step towards full-time professionalism.
"Currently we all hold down two or three jobs and play," she said.
"At Parra we have two girls who are paramedics, others work in all sorts of industries, I work in a school as a teacher assistant. It's really hard to balance them all out, so getting the women's game to a full-time level would be a massive achievement.
"And the club has an amazing relationship with our employers that allows us to play."
So where next for the NRL's WA-grown woman of the year? <br> Ten teams in 2023 - with the addition of North Queensland, West Tigers, Cronulla Sharks and Canberra Raiders.
"I hope we can keep our core squad together at Parra, they are a great family club and I really want to stay there, but there is expansion with more clubs, so who knows.
And the Jillaroos? Cherrington is a dual national.
"Mum and dad were both born in New Zealand but I was born and brought up in Australia, so I chose Australia."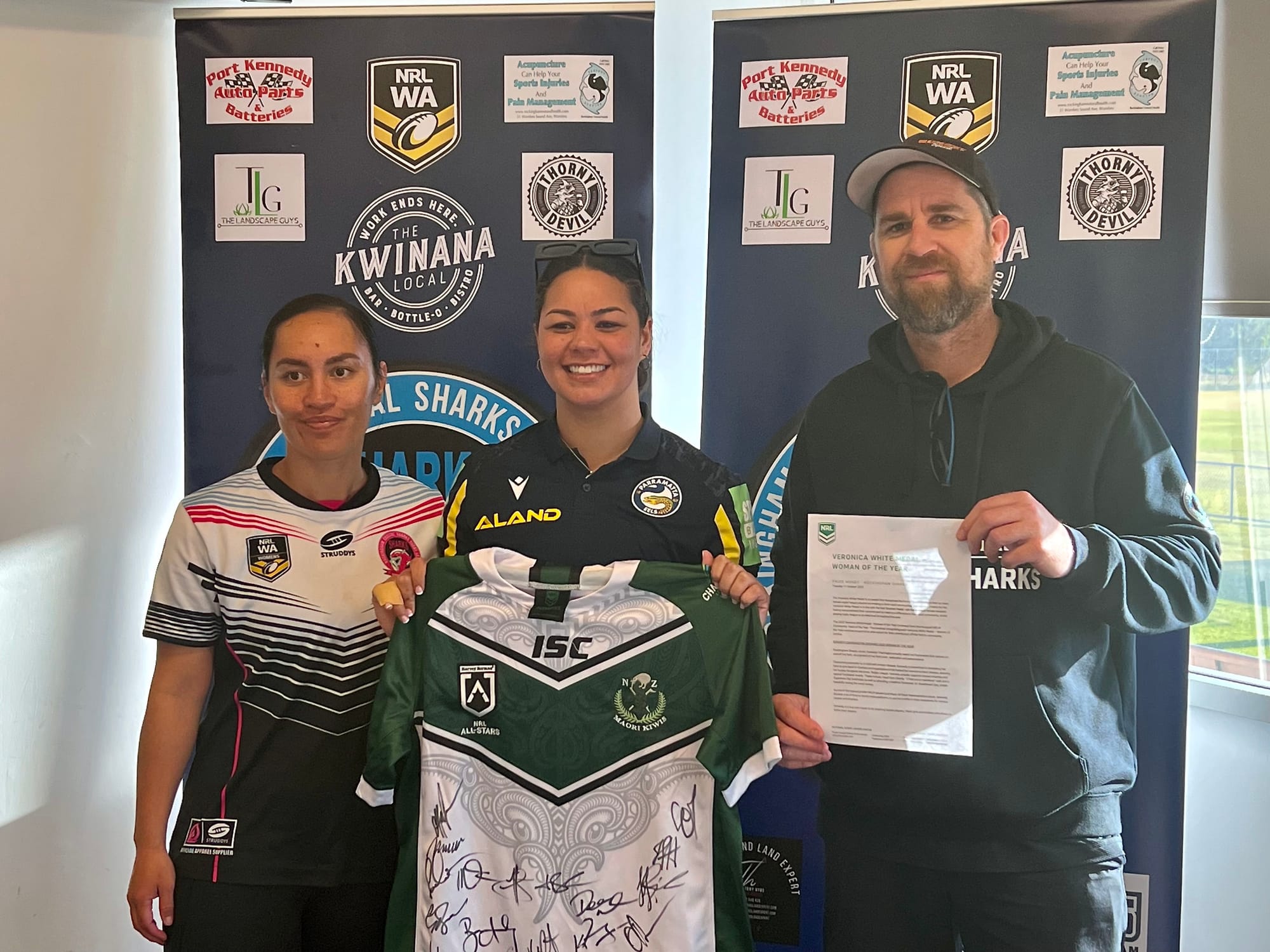 "And we need have to have a professional NRL team in Perth to grow the game. There's enough support and a women's team, for sure.
"Living away from home for five years is not easy, especially as a 17-18-year old.
"I just want to show every young girl out there they can follow their dream, they can play footy and reach the top."